---
Queanbeyan Flood Level History
A Work In Progress Awaiting Additional Data
Queanbeyan Flood Level History
Year
Date
Peak (m)
1925
1925
10.7
(Approx)
1974
Aug 1974
9.5
1976
Oct 1976
9.2
(Approx)
1988
Jul 1988
7.6
1989
Apr 1989
6.2
1991
Thu, 11 Jul 1991
6.9
1995
Sat, 21 Jan 1991
6.5
(Approx)
1998
Sat, 22 Aug 1998
4.5
(Approx)
2010
Thu, 09 Dec 2010
8.4
2012
Thu, 01 Mar 2012
6.2
(Approx)
2016
Mon, 06 Jun 2016
6.6
(Approx)
Bar Chart of Queanbeyan Flood Levels over the Years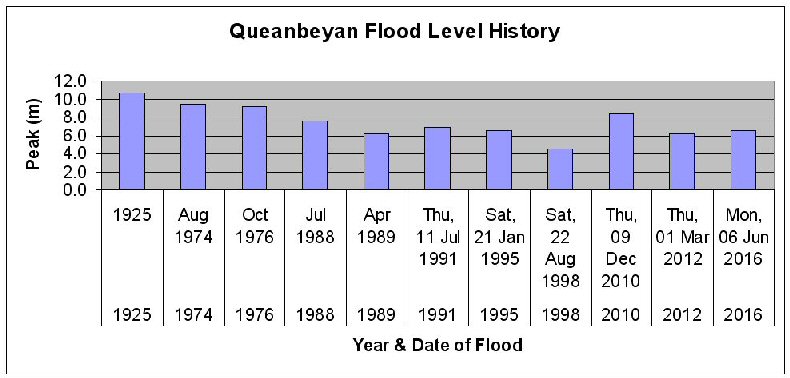 Source of data to date, and as at Thu, 20 Jan 2011, has been the City Infrastructure Unit of the Queanbeyan City Council. I wish to acknowledge them and thank them for their assistance in this matter. They have also provided the following information:
The height is usually related to a particular location and refers to the depth of water at that location
For Queanbeyan, it is the water depth gauge under the Queens Bridge on Monaro St over the Queanbeyan River
Sometimes the levels are related to Australian Height Datum and expressed as a height above sea level, but this is infrequent
I would also like to acknowledge the assistance of Matthew Saxby for corrections and additions to the data as well as providing the data for the most recent event on Thu, 01 Mar 2012.

Note: Data for flood of Mon, 06 Jun 2016 taken from BoM data from their station "Queanbeyan R at ACT Border".

If anyone can provide any additional information as to the actual date of any of the above events to complete the above data this would be much appreciated. Thanks. My email address is accessible below.
---
The table on this page was generated from an Excel spreadsheet using the program LISTPICS and then modified
URL for this homepage: http://pmyers.pcug.org.au/General/QueanbeyanFloodLevelHistory.htm

Modifications to this page © 2012, Paul Myers